Construction for Energy Efficient Buildings: Passive House Design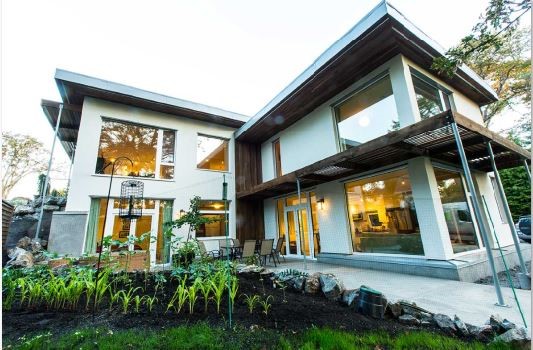 This specialization is offered in partnership with *Passive House Canada.
Passive House is an internationally accepted standard to build highly energy efficient buildings that are robust, comfortable, healthy, resilient and sustainable. They use up to 80% less energy than conventional buildings by incorporating high levels of insulation, high performance windows and heat recovery ventilation. While passive house designers must meet specific energy targets, they are free to choose how to meet those targets. Passive House is an excellent standard to meet the BC Energy Step Code Step 5 target for 2032, today. More information about Passive House can be found here.
The Passive House Design Specialization, offered in partnership with Passive House Canada, consists of three micro-credentials designed to provide participants with the ability to apply Passive House principles to the creation of highly efficient buildings. This specialization will be of interest to industry professionals and individuals involved in the design of highly efficient buildings, Passive House buildings or EnerPHit (retrofit) projects, including: architects, engineers, design professionals, site supervisors, general contractors, building inspectors, building trades, city planners, homeowners, investors and suppliers of high performance building materials that may be used in Passive House construction.
This specialization consists of the following micro-credential:
MCRO 170V - Construction for Energy-Efficient Buildings Micro-Credential
Your first module will cover the technical, economic, and policy elements of Passive House, and teach you how to apply Passive House principles in the context of building physics, windows and mechanical systems. Principles will reinforced through the use of domestic and international case studies. Next, you will learn how to use the Passive House Planning Package (PHPP) energy modeling software and will model a sample Canadian project. You will be able to assess energy demand throughout the year and how to optimize the design for energy efficiency. Lastly, you will prepare to take the internationally recognized Passive House Designer/Consultant examination, by reviewing the previous course topics and completing design exercises and sample test questions.
*Students enrolling in this micro-credential are eligible to become members of Passive House Canada for one year, free of charge.
Certified Passive House Designer/Consultant:
Students who successfully complete the Construction for Energy-Efficient Buildings Micro-Credential course are eligible to write the Passive House Institute's Cer­ti­fied Pass­ive House De­sign­er / Con­sult­ant ex­am. Interested students are encouraged to check out the Passive House Canada calendar for when exams are being offered. There is a fee to write this exam and you will require a valid PHPP license to register.
---
This program qualifies for the StrongerBC future skills grant, which provides funding of up to $3500 per person for short-term skills training. Please visit the ProSIT StrongerBC page to confirm your eligibility and to learn how to apply.
As part of the StrongerBC future skills grant program, this course has the option to use grant funding to subsidize the cost of the Passive House exam. If you have grant funding remaining and would like to use it towards your exam fee, this can be done by submitting proof of payment to prosit@camosun.ca, for a reimbursement of up to $600.

Supported by the Province of British Columbia
Required fields are indicated by .