Learners that take courses in our Continuing Education program come from a wide range of backgrounds and expertise. Discover those taking our programs and find your pathway.
Whether you are looking to take a course for general interest or boost your career with one of our certificates, there is an option that is right for you. Our courses are offered evenings, weekends and during the day to fit your schedule:
Our courses add in demand skills to your toolbox that employers are seeking.
You can gain specialized knowledge by building on the skill set you already have.
Take a step towards a new promotion by advancing your soft-skills.
Learn a new hobby that you've always wanted to try but never had the time to start.
Explore the many pathways that are available to you and our highlighted careers each month!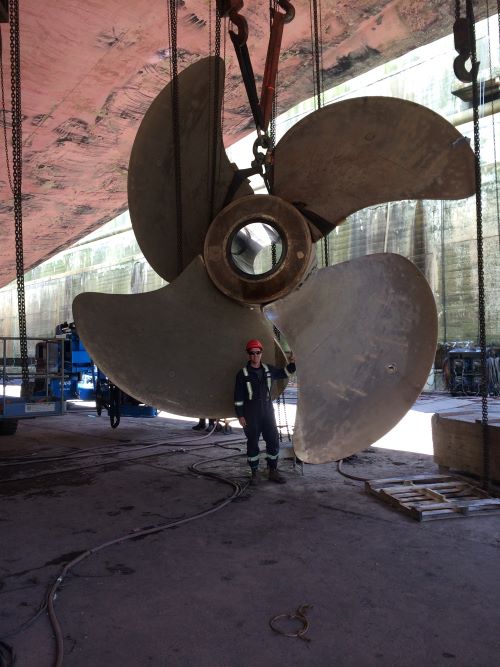 A Learners' Experience
Dylan has been working with Seaspan since 2001. He started as an entry level labourer. Among other positions, he has since challenged his Red Seal (Painter and Decorator), ITA Certified Shipyard Labourer and most recently has become a senior chargehand.
It became clear as Dylan progressed into his current role that there was specific training needed for his front-line staff. One such program is the Coating Inspector Program, offered by the NACE International and the Society for Protective Coatings (SSPC). Working with Camosun Coastal Centre and Seaspan Director of Operations, Dylan was given the green light to plan and schedule this highly sought after training. This gave his employees the opportunities to build knowledge and skills while working for Seaspan. These courses are not often offered in Victoria, the closest courses being offered in Portland, Oregon. In 2015, Dylan became a Certified SSPC Level 2 Protective Coatings Inspector. Since this time, Dylan has progressed his Protective Coatings Training and currently holds Certifications as SSPC Level 3 Protective Coatings Inspector, NACE Level 3 Protective Coatings inspector with Marine Endorsement and SSPC Protective Coatings Specialist Certification.
These programs have been fundamental in both Dylan and his front-line employees' development to recognize the importance of proper surface preparation, protective coating applications and inspection. As a direct result, the Seaspan teams operate more efficiently during dry-dock work periods on cruiseships, naval frigates, submarines and many other commercial projects. The Director of Operations and Seaspan have been very supportive of these specialty training efforts and understand the importance of developing and maintaining qualified personal for the years of long term contracts and programs.
Dylan contacted Michelle Traore, Manager of Business Development and Contract Training to create a custom solution for the Seaspan Employees. She then, organized his team's specific training needs, including: NACE Level 1& 2, NACE Marine Coatings Technology, SSPC C-13 UHP Water Jetting program and SSPC C-12 Spray Application Program.
"You are only as good as your people", Dylan believes. "I knew that this program would prepare our front line employees not only for their current position, but open doors for new opportunities." Seaspan has since recognized a higher retention of employees, because of this custom training.
Dylan has also currently completed the Leadership Development Certificate Program through Continuing Education at Camosun College. He has found a need to build his leadership skills, especially in a trades industry. "I really enjoy the program" he shares, "I have built a community outside of work where I see familiar faces in the classes I take." These experiences have added value to my leadership skills and given me the tools needed operate efficiently in my role as a senior leader.
Dylan is an instructor for the Ship Repair Entry Level Training (SRELT) program, offered through the Camosun Coastal Centre, which gives Indigenous students certified training for the marine industry. He continues to be an advocate for Camosun Continuing Education & Contract Training and has hired many students from the program.
If you are interested in learning more about Custom Learning Solutions for yourself or work team, contact us at: continuinged@camosun.ca.
Required fields are indicated by .