CEEB 154V
-
Designing Photovoltaic Systems
1514465
Course Description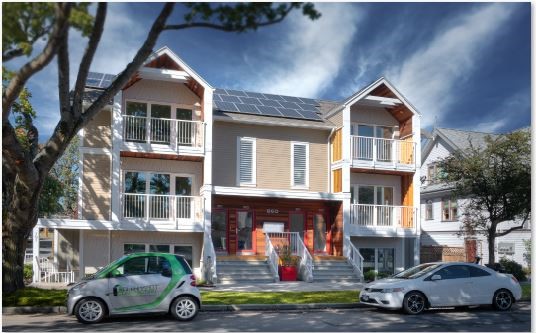 This course provides the students with the ability to design PV Arrays. The course teaches the information required for the NABCEP PV Design Specialist. This includes how to: review customer expectations (location, aesthetics, electric load assessment, performance requirements, etc.); understand project criterion (codes, standards, plans and specifications, permitting, etc.); assess a project site (location, site exposure, shading analysis, roof surfaces and structures, wind exposure, electrical services, construction staging, service connections, etc.); configure mechanical design (PV Performance, racking systems, fasteners, structures, snow and seismic loads, module orientation, module characteristics, storage system placement, etc.); configure electrical design (Inverter selection, interconnections, disconnection, grounding, rapid shutdown, battery technologies, storage sizing, etc.). This course also covers North American electrical codes.
CEEB 154V is the third of three courses in the Clean Energy micro-credential stream, which leads to the PV System Design specialization.
This course is also intended to fulfill the 24-hour advanced training requirement for the *NABCEP PV Design Specialist certification.
Course Outline
What to expect:
You will have 8 three-hour online synchronous and interactive lectures (two per week), which you will join live.
You will need internet access and a computer with speakers and microphone to participate.
Lectures will be recorded for your subsequent review.
You will complete short online assignments to improve your understanding of content.
Course materials you need will be provided digitally online.
As an additional resource, it is recommended that you purchase a copy of Solar Photovoltaics Basics: A student Guide for the NABCEP PV Associate Exam, by Sean Whyte
Depending on COVID restrictions, students may obtain some hands-on experience with solar components, and a site visit.
Successful Completion:
Students will be assessed and are required to obtain an overall grade of at least 70%. Students are encouraged to work with their instructor during posted office hours if additional help is needed. Students will receive a micro-credential certificate upon successfully completing the course.
Learner Outcomes
PV Design Specialization
Completion of the CEEB 150V, CEEB 152V and CEEB 154V qualifies you to obtain Camosun's PV Design Specialization. This will be provided automatically to all students who complete each of the three micro-credentials with 70% or higher.
*NABCEP PV Design Specialist (PVDS) Certification
When combined with work experience, and provincially recognized OSHA/OH&S training, the 24 hour CEEB 154 course is intended to be used to satisfy the 24 hour advanced training requirement for the NABCEP PV Design Specialist (PVDS) certification. Interested students are encouraged to check out the NABCEP certification Handbook for more information. There is a cost for applying to NABCEP for the PVDS certification as well as a separate exam fee.
Prerequisites
Students should have completed CEEB 152V – Photovoltaics, taken a **similar course elsewhere, or already have their NABCEP PV Associate credential.
**Check with ASCEEB program coordinator, Ross Lyle lyle@camosun.ca, if you have taken a similar course to CEEB 152V and would like to enroll in CEEB 154V.
Applies Towards the Following Certificates
Required fields are indicated by .