FILM 100V
-
Film Production Assistant Micro-Credential
1725633
Delivery Options
In Class
Course Description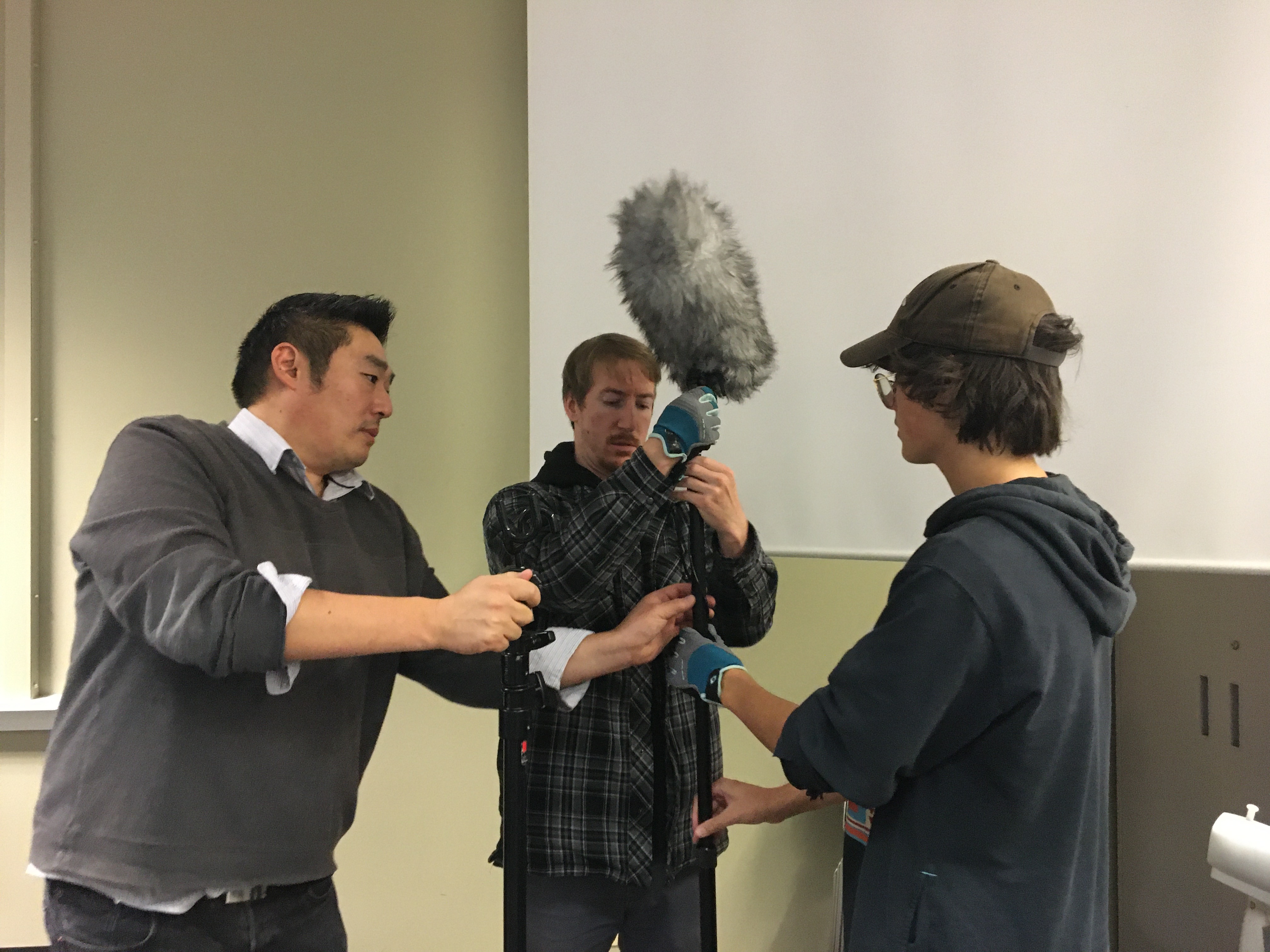 Build skills and confidence. Earn industry recognized certifications. Kickstart your career in Film and Television.
Working as a Production Assistant is the most common entry point to working in film. In this fast-paced program, you'll learn what each department does to better understand the industry environment.
You will speak with seasoned industry professionals, gain insights into the Vancouver Island film scene, receive hands-on training, and acquire the qualifications needed to start working in the film industry. With an experienced instructor at hand, you'll receive instant feedback and answers to your specific industry questions. Everything in this course is designed to help you survive and thrive Day One on set.
Graduates of this program earn a deferral of the 30-day work requirement to join the Directors Guild of Canada - BC Permittee Logbook Holder Program. Being a Permittee Logbook Holder is the first step towards DGC - BC Associate Membership, which allows you to work on union shoots. Additionally, you'll be able to immediately join the crew directory at the Vancouver Island South Film and Media Commission, making it easier for potential employers to discover you. VISFMC accepts completion of this program in lieu of the otherwise required professional production credit.
Three weekends to a fascinating, lifelong career. Are you ready?
Learner Outcomes
Upon completion of this course, learners will be better able to:
• Maintain their own safety and the safety of others on set (including completing MPIO, ActSafe, and WHMIS certifications)
• Describe how the history of film and the needs of present-day productions have contributed to the creation of "good set etiquette," and how these rules apply to their own work
• Describe the role of a PA on a film or television set
• Read and understand a call sheet
• Communicate instructions to the cast and crew
• Identify and assist with issues that occur during filming, observing protocols and hierarchies
• Assist in any department of a film shoot
• Chart career paths in the industry, including understanding of requirements for entry to the three key entertainment unions
• Describe how to appropriately network with industry professionals
• Feel confident applying for jobs in the film and television industry.
Testimonials
"Practical and down to earth." "Very informative and all the guest speakers were able to share different aspects of production." "Great stepping stone to get into the industry." — Student evaluations.
About the Instructor
Kathleen Gilbert
Film Commissioner for the Vancouver Island South Film and Media Commission
As Film Commissioner, Kathleen Gilbert is responsible for marketing the CRD to Producers worldwide. Prior to becoming the Film Commissioner, she worked in the Film Industry as a location manager for over twenty years. In 1990 she was a founding member of CineVic Society of Independent Filmmakers. Her resume includes shows like Little Women, Intersection, X-Men 2 & 3, Final Destination and a slew of television movies. Kathleen was born in Sarnia, Ontario, Canada, where she ran a small business for several years. She attended The University of Calgary in the Fine Arts Department and went on to graduate with distinction from the University of Ottawa with a degree in Communications. After University she worked for The Anglican Church of Canada for seven years, developing and coordinating several programs for homeless women in Ottawa, Canada.

"Kathleen Gilbert was an amazing instructor and I could tell she wanted the best for the course. Kathleen clearly cared about each person and their selected path in the industry, offering advice and resources so that we could leave the course with steps to becoming successful. It was a fantastic course to be a part of." — Jordan, Film Production Assistant Micro-Credential alumni
Notes
This program qualifies for the StrongerBC future skills grant, which provides funding of up to $3500 per person for short-term skills training. Please visit the ProSIT StrongerBC page to confirm your eligibility and to learn how to apply.

Supported by the Province of British Columbia
Required fields are indicated by .